Lexi
My daughter Lexi has attended lessons with Mrs. Janelle for two years now.  I cannot say enough wonderful things about Mrs. Janelle.  She is so patient with the kids and really works to be sure they feel comfortable in the water.  She gears each lesson specifically to where your child left off the day before and really works off their strengths. Even on days when my daughter would get scared in the water, Mrs. Janelle was always so calm and helped my daughter feel safe and confident. It was absolutely amazing to see my daughter learn how to swim and complete the entire process.  It is because of Mrs. Janelle that my daughter will be able to save herself in case she were to ever fall into a pool.  Thank you Mrs. Janelle for all you do for these kids! -Erika Tillett

Jacob
Jacob has been going to lessons with Janelle since he was 1 year old, and he is 3 years old now.  He loves going to swim and is always so sad when it's check out time.  We never thought he would have to use his skills, but wanted them to be there just in case.  Shockingly, that "just in case" happened this spring.  We were all at his grandparents' house playing in the back yard.  They have a pool in their back yard.  We kept reminding him the pool was there and not to run, etc.  Before we knew it, he walked right into the pool.  He was playing with a water gun and was not paying any attention.  Before we could even really react, he quickly flipped into the float position and started making his way to the side of the pool.  He had not had a lesson since September/October so we were so surprised he recalled his skills and so quickly.  I now know that if something like this happens again, that he remembers what to do and it makes me feel so much better about him being around pools.  We are so thrilled with the results that we have now started his baby sister in her lessons.  This skill is invaluable and worth the time and effort.  We are so thankful for Janelle.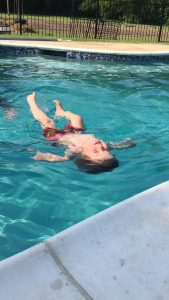 Everett
My son, Everett, 3.5 years old, has been in swimming lessons since he was 7 months old.  This past spring (March/April 2017) was our first year with Janelle, and by far, one of our very best!  Everett gained a confidence in the water this year that he previously did not have.  His fears of something new, having not been in a pool since last summer, quickly went away when we started working with Janelle.  We will absolutely continue to take lessons through Janelle as long as we possibly can!  Swim lessons have given Everett the confidence and comfort in the water that I know he wouldn't have otherwise.  I also know that should the worst happen, my son has been equipped with the skills necessary to save himself in what could be a very terrifying situation, and that is largely thanks to the work Janelle has done with him!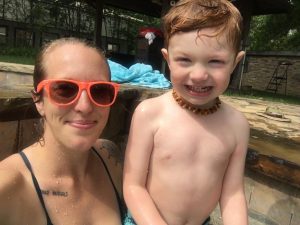 M, N, and K
Our family has benefitted from Janelle's teaching expertise for the past 9 years.  She has taught all three of my kids over the course of 6 different summers and I have referred at least 12 families to Janelle in the process.  The way she customizes the lessons to each child's needs and the strict standards she follows have made all of my kiddos safe in and around the water.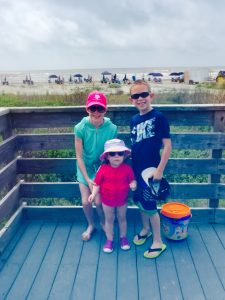 McInelly
This is McInelly. She is a veteran student. She learned to float when she was 8 months old and she now knows how to swim face down, roll onto her back and float, then flip over and swim again until she reaches the side of the pool.
Addison, Audrey, and Avery
3 Sisters showing off their floating skills!